Message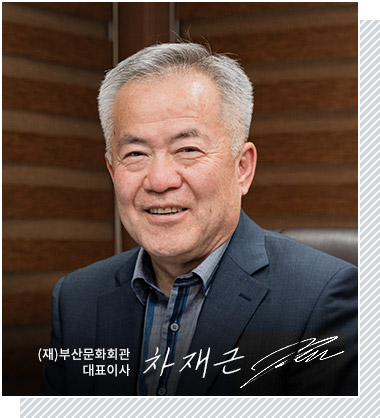 Welcome to Busan Cultural Center Busan Cultural Centerwill be reborn as a hall where citizens' happiness and cultural values are shared.
Busan Cultural Center was officially launched in 2017 and has been operating Busan Cultural Center and Busan Citizens Hall, the representative concert halls of Busan. In addition, we consign the operation of Busan Art Organization (composed of 7 art companies) to revitalize the art ecosystem of Busan.
Busan Cultural Center is at a time to shift to a new paradigm. We need to further spread the social value of culture and art, and strive for successful art management. To this end, we will strengthen our status as a central institution of Busan, and become a hall and art organization with a cultural universal of art rather than specificity.
We will focus and prepare to lead developmental changes for the culture and citizens of Busan. We will carry out the management strategies to strengthen internal solidarity and prepare for the turbulent times and environment outside. Through this, all employees will work hard to create a rich and vibrant marine culture of Busan.
Thank you.
Busan Cultural Center CEO LEE Jeong-Pil