Busan Metropolitan Traditional Orchestra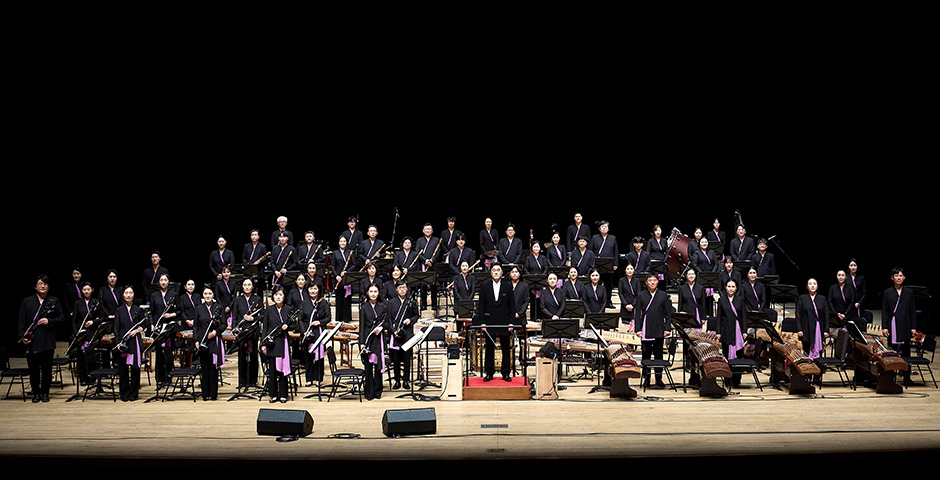 Introduction
Busan Metropolitan Traditional Orchestra consisted of 72 professional musicians provides high-quality our music at regular performances(178 times), special·planning concerts(more than 3,000 times) and large·small concerts of home and abroad such as Denmark, Turkey, Singapore, India, China, Japan, Vietnam, Taiwan, Indonesia, the USA, Germany, Australia, etc.
Through the 1st conductor Lee EuiKyeong in 1984, the 2nd conductor Kim YeongDong, the 3rd conductor the dead Kim YongMan, the 4th conductor Bae YangHyeon, the 5th and 6th conductor Park HoSeong, Busan Metropolitan Traditional Orchestra strives to the artistic improvement and the popularization of our music with passionate and innovative repertoire by means of scouting the current 7th conductor Kim CheolHo.
And Busan Metropolitan Traditional Orchestra has been selected at the overseas dispatch contest of national local government's cultural arts performance hosted by the Ministry of Foreign Affairs twice in 2013 and 2015, ended in great success the 130th anniversary performance of Korea-Germany amity and the 50th anniversary performance of dispatch Germany miners in Dusseldorf, Germany[Jun. 14(Tue) 19:30, Robert Schumann Hall] and Hamburg[June. 15 (Sat) 18:00, Congress Center] in 2013, received a big applause about the 50th anniversary performance[May 20(Wed) 18:30, 2015, Sapporo Citizen Hall, Japan] of the Korea-Japan normalization of diplomatic relations by showing with our elegant and classy music.
Busan Metropolitan Traditional Orchestra will enhance the Korea traditional culture's position to home and abroad by propelling the popularization, modernization and the generalization of Korea's music for a high value-added creation of our music.